New Control4 Neeo Remote - Home Automation
When Control4 acquired scrappy remote control manufacturer Neeo back in February 2019 for $11 million, many in the industry wondered why? Now we know.
SnapAV, which subsequently acquired Control4 in May of this year, has announced the launch of the Neeo Remote for Control4. The $600 Neeo is a touchscreen remote that delivers refined control of home entertainment through the Control4 Smart Home OS 3 platform.
Neeo is a sleek, intuitive remote control for the Control4 Smart Home OS, giving homeowners fast access to favorites, including streaming services, most-watched TV stations, playlists, room-level or household-level smart home scenes, and more. Neeo is the first Control4 handheld remote to combine hard buttons and a touchscreen.
"The modern smart home needs simple interfaces to start a movie, select a playlist, or lock a door. Neeo was expertly designed to be beautiful, and with Control4 OS 3, it's also the easiest way for a family to enjoy entertainment in their homes," says Charlie Kindel, SnapAV chief product & technology officer. "Neeo is a reflection of our obsession for creating the most elegant and simple interfaces for the refined smart home."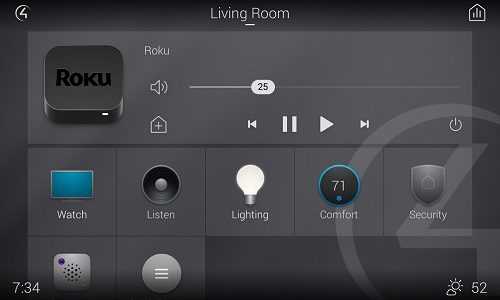 Neeo Remote Engineered Design
The Neeo Remote was designed by Swiss engineers. It is built from machined aluminum designed to protect the edge-to-edge touchscreen making the device more durable. According to the company, Neeo balances perfectly in the hand. Images and icons on the 3-inch, high-resolution, LCD touchscreen are crisp and bright to enable quick one-touch navigation. Neeo is available in either silver or black finishes and ships with a low-profile charging station. Neeo lasts up to five days on a charge.
Neeo was built to harness software designed specifically to orchestrate and manage the modern smart home. Control4 Smart Home OS 3 unifies connected devices from major brands, weaves them together for simplicity, and provides a singular voice, touch, and hand-held interface for the whole home. Family members in a Control4 OS 3 powered home have at-a-glance views of virtually every connected device, as well as numerous options for control including voice with Alexa and Google Assistant, the Control4 App, a Control4 Touchscreen, a TV on-screen display and with the Neeo Remote.
In terms of programming… there is none, according to Kindel. Integrators will be able to ship the remote directly to a customer or sell it from their showroom. As long as the home is equipped with OS 3 and either the EA-1, EA-3 or EA-5 hub, homeowners only have to enter their Wi-Fi password, tell the device which room they are in, and it is online.
"It's all about removing complexity," says Kindel. "Consumers are starting to complain about 'smart home fatigue.' Homeowners don't want to be IT directors. They want fast access via a single interface."
Touchscreen, Hard Button Combo
"There is a lot of debate whether remotes should still have hard buttons," says Kindel during a call with members of the press. But the company sees value in hard buttons for common commands that allow users to mot have to take their eyes off of the TV. Therefore, the remote has hard buttons for power, mute, volume, and home. Meanwhile, using the touchscreen, users can swipe right to reveal video sources such as a Blu-ray player, video game system, Dish Network, and more.
The Neeo Remote comes with a 2-year warranty. According to Control4 senior director of product marketing Kordon Vaughn, pre-orders from integrators are the largest quantity in the history of Control4.
As part of the launch, Control4 announced it will be holding its third #c4YourselfDay on November 21 from 4 p.m. to 8 p.m. in integrators' showrooms across the world.
The $600 Neeo is available exclusively through Control4 Smart Home Pros. The Control4 SR-260 Remote continues to be available for $330 U.S. MSRP.
Source: CEPro
Author: Jason Knott